Your Customers Have Changed…

So Should Your Home Improvement Marketing Strategy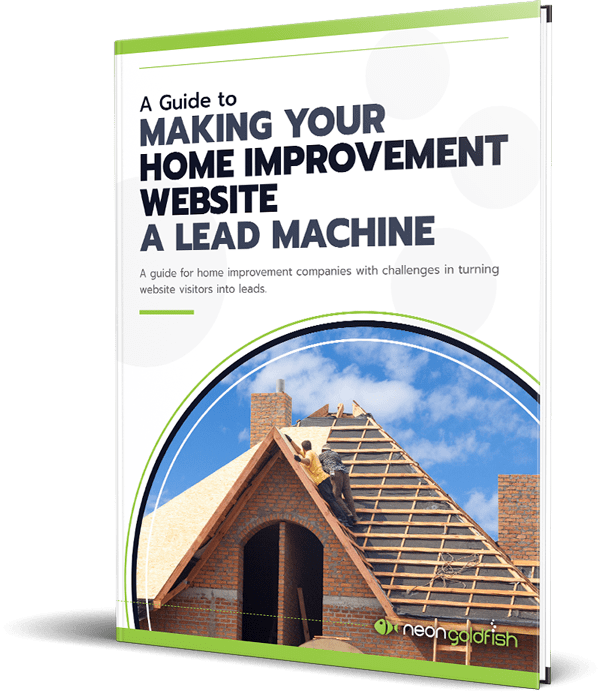 Check out our FREE eBook, "A Guide to Making Your Home Improvement Website A Lead Machine." Stop wasting your precious website traffic and start making your website work for your company.
Why are you wasting that money!?
Did you run a direct mailing in the last year and see little to no new customers?
The marketing campaigns you used in the past to generate residential construction leads for your home improvement company are not as effective as they once were. As technology continues to advance, your digital marketing strategy will continue to evolve with our support.
When you work with Neon Goldfish, together, we will create a new marketing strategy for your home improvement business that will generate leads. It's known as Inbound Marketing.
Simply put, we bring the customers to you.
You Need a Better Way
Let us design a new marketing strategy that will generate home improvement leads for your business. When you work with us, you will see we are invested in your success.
We take the time to learn about your business goals and customize a solution that will increase your website traffic and generate leads for your home improvement company.
By creating content backed with search engine optimization (SEO), you distance yourself from your competition because you are marketing to home owners. Your content is free to them, use that to your advantage. Publish content that educates, elaborates, and answers questions they may have. Anticipate the needs of your audience and you become the trusted authority of your industry. When home owners are searching the web for home improvement companies,  give them resources that influence their reaction to your call to action.
Shouting Into the Void
Old school marketing tells you in order to have the most impact, you need to be the loudest in the room. You no longer need to be the loudest to disrupt your industry. By using inbound marketing for your business, you will convert more of the internet traffic that already comes to your site, and introduce your company to new potential customers by attracting them to your website.
Increasing web traffic by
243%
Neon Goldfish helps home improvement companies make the most out of their digital marketing budgets. Don't take our word for it. Just ask HanH Tran, Design Director for HJT Dental Office Design Consultants.
We updated and optimized HJT's website and created an inbound strategy that features content infused with keywords for SEO.
You can learn more about how Neon Goldfish and HJT Dental Design Consultants worked together on their case study page, or watch HanH's interview below.
HJT Dental Office Design Consultants
Watch our entire interview with HanH Tran from HJT Dental Office Design Consultants.