Website Redesign
The website redesign process doesn't have to suck.
A website redesign can seem overwhelming for a few reasons. It can be costly, time consuming, and unless you're one of those rare, tech savvy gurus, it's not something that many people can tackle or easily pull off on their own.
For the majority of business owners, a website is truly a labor of love.  It's a considerable investment requiring precious time, energy and money. Consequently, owners may become sentimentally attached to something that they've poured so much of their heart and soul into over the years.
So how do you know when the time is right for a website overhaul?
Old and Outdated
Malfunction Junction
Compatibility Issues
All it takes is a quick click onto a photo gallery or a blog, and if the latest was uploaded in 2010, you're going to wonder if the business is even still operating.
Old and Outdated
This might be stating the obvious, but if your website hasn't seen an update since flip phones were all the rage, then it's most likely out of touch with the current business and market trends and would greatly benefit from a fresh new facelift to get some of those pesky, unwanted wrinkles removed. Even the most novice of computer users who have little to no understanding or knowledge of web design know when a website is outdated and neglected.
Malfunction Junction
For the majority of customers, there is nothing more irritating than going to a website to seek out answers to those super urgent burning questions, like "Does your restaurant have a vegetarian menu?" only to encounter errors or confusing menu options that lead to nowhere.
Sluggish response times, broken links, confusing menu options, pages that are nearly impossible to navigate, hidden or missing content, non-working third party tools such as shopping cart widgets that no longer function properly, etc., are not only aggravating, but they could also cost you a potential customer.
Compatibility Issues
It's not you it's me.
However, in this case it could be your website's fault. We live in a busy, fast paced world with a screen heavy existence and multiple electronic devices at our disposal. If your website isn't compatible across the board with all of the various types of devices out there, then you're missing the boat. Remember the days of trying to access a Flash website on an Apple device? Enough said.
Some websites are so painfully slow and non-responsive you begin to wonder if high speed internet has suddenly reverted back to dial up.
What comes next and how does it all work?
While a website redesign is a major project, it's certainly not worth losing any sleep over. By taking the time to do the proper planning by compiling an organized and well thought out website redesign checklist, this will help ensure everything will run as smooth as possible.
Website Redesign Checklist
It should be mobile responsive
It should be optimized for search engines
It should be speed tested and efficient
It should be optimized for conversions
It should be data driven
If you build it, they will come. Or at least that's the hope, right?
You will work with your team to build out sketches, or wireframes which are basically the blueprints of which specific content will be present on each page of your website.
Step 2. Building
Creating high quality, winning content is a critical component in keeping your visitors interested and engaged. You've captured their attention, now how are you going to ensure that they don't abandon ship? Short, stylish, and captivating content is much more likely to attract the eye and maintain focus over endless paragraphs. We're not reading a novel here.
Providing engaging content is not only intended for entertainment purposes, but rather to boost your site's visibility for search engine optimization, or SEO, by using strategic keywords and phrases.
Step 3. Testing
Testing 1,2, 3. This is an opportunity to test drive the final product before it becomes accessible to the public. Most importantly, it's a chance to ensure that the website is fully functioning as expected without errors.
It's important not to rush this part of the process, as you didn't come this far only to start cutting corners now.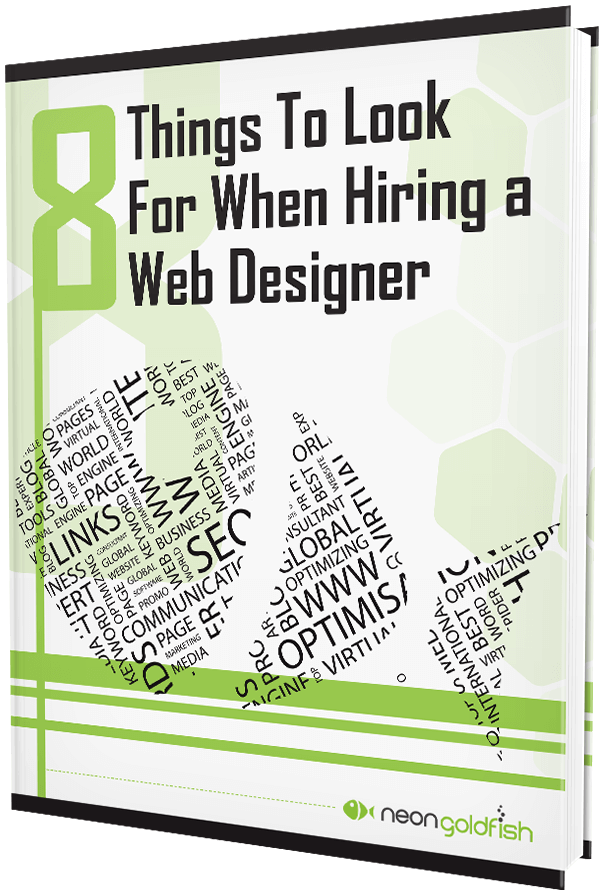 Searching For A New Website Design Company?
Finding the right web design team can feel like a needle in a haystack. Use our guide to help you interview web design teams and find your perfect fit.
Step 4. Launching
Houston, we're ready for take-off! After the most grueling steps of the web design process are complete, it's finally time to launch! While you're probably hoping that your work here is finished, unexpected bugs in the system, such as non-working links or faulty redirects may still require a little extra attention. Don't be discouraged if such mishaps occur. Simply fix it and move on.
Adding stunning visual content and design elements is also an important step as humans are visual creatures and with the right images, it's possible to catch the visitor's eye, leading to increased clicks, participation, and conversions.
There is so much more that goes into a full website redesign that this is simply the tip of the iceberg. Connect with a website design specialist at Neon Goldfish today. We specialize in creating and managing websites for businesses. With our guidance and expertise at the helm, you can expect a smooth sailing project ahead.