Social Media Marketing Agency
Today, there are literally millions of users worldwide taking advantage of social media platforms such as Facebook, Twitter, and LinkedIn as a primary means of communication.
These outlets provide a convenient, simple, and universal way of interacting with others that transcends a wide array of demographics.
The old and the young, business professionals and laborers, male and female, rich and poor – it seems as if everybody enjoys the benefits of social media in one form or another. Has your business grabbed hold of this popular trend and begun using it to your advantage?
If you plan on adding blogging as a strategy to your web marketing solutions, then coupling that with a social media marketing strategy will help spread your message.
Social media platforms can serve as an effective tool for promoting your company, goods, and services by connecting your blogs back to your website.
Social media can act as hub between your website and its visibility on search engines.
Neon Goldfish understands the significant role that blogging can play in the success of a comprehensive marketing solution, and we've successfully implemented strategically designed social media marketing plans to complement our clients' blogging efforts.
We've seen firsthand how closely blogging and social media marketing mesh together, and we provide our clients with the training and tools needed to take full advantage of their potential.
Don't wait too long to get started, or you'll be too late in the game.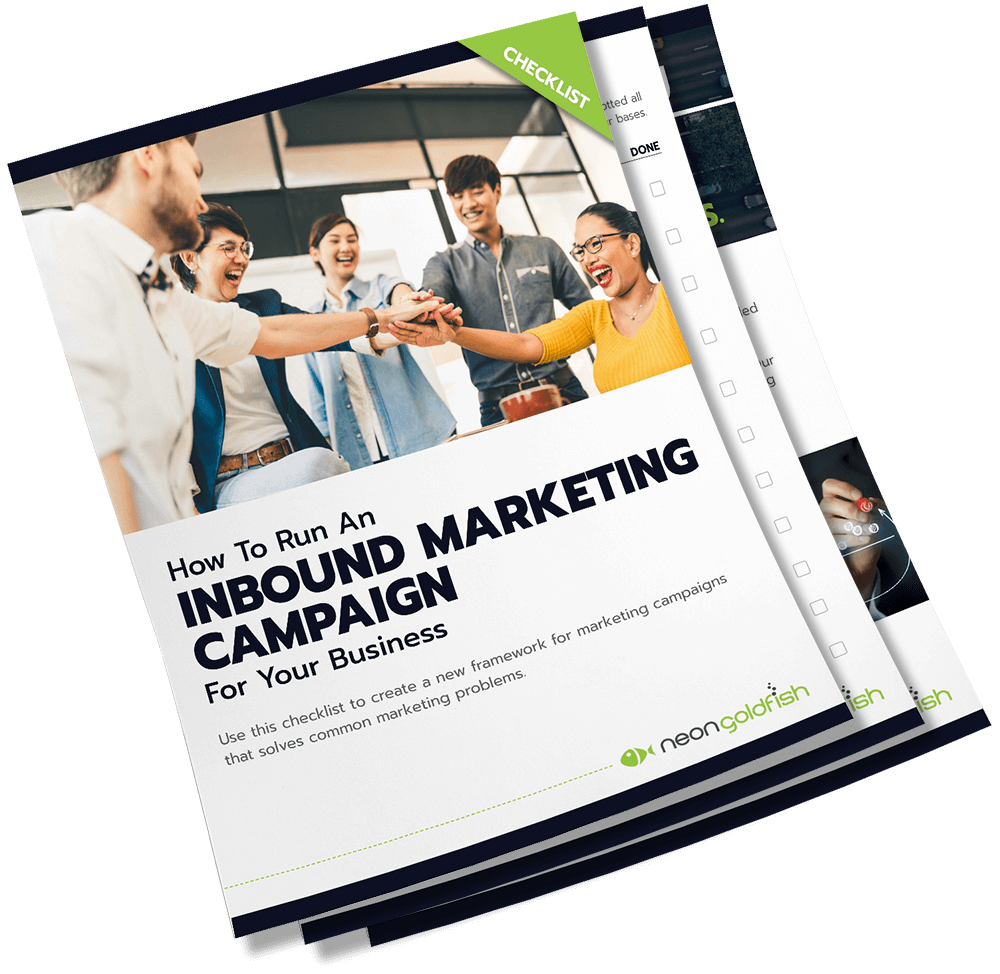 Don't Forget Your Checklist
We created a checklist to help you launch your next marketing campaign. We outline everything your marketing campaign should take into account from identifying your audience to creating reports.
Social Media Marketing Tips
Increase brand recognition and inbound traffic. Social media tools serve as a direct path leading your blogs back to your website.This allows visitors who might not otherwise be familiar with your company to gain insight into what you're all about.
The more your name is put out there through blogging and social media posts, the greater the likelihood is that others will click on the right link that will lead them to your website.
Cost efficiency. Not only does social media marketing cost only a small fraction of your total marketing budget, the ROI is an estimated 4,300%! Yes, that number is correct. Plus, every time your posts are shared via social media, you receive the additional FREE earned advertising, all because your customers and site visitors are spreading the word.
Increased search engine visibility. Every time your blogs are shared on social media sites, your business' website becomes more recognizable on search engines. As your website moves up on the search lists, you'll gain increased site traffic, which will lead to increase sales for your company.
Keep your website relevant, fresh, and engaging for your customers and visitors. Regular updates and changes to your site will demonstrate the dynamic nature of your website and your business.
Your social media marketing efforts will showcase these changes for the world.
Promote added interaction with your site visitors. This can provide you with important insight into your customers' wants, needs, and buying habits. Knowing this data will provide your customers with a richer buying experience.